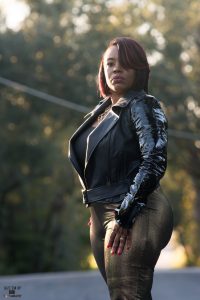 Instructor/ Cosmetologist/ Braider/ Weave X-pert/Traveling Stylist
TRINNA (Catrinna Johnson)
A wife of 19 years to Dennis Johnson (Sports Athletics Trainer) and mother to Londyn D'nay Johnson. I have been in the business of enhancing the natural beauty of clients for well over 26 years. After graduating from E.C. Glass High School in 1995, I furthered my education through the Central VA Community College (CVCC) apprenticeship program for cosmetology. I became a certified hair stylist in 1997. In 2014, I received my instructors' certification from Miracle University of Gretna, Va.  In 2016, I became part of the Weave X-pert International Team (founded by platform artist and personal business coach Tomeka James).  2017 I received my license for North Carolina and relocated to the state.  I became certified in training in 2021 for Hair Replacement procedures under Gloria Gigi Ford.  I am now accepting, major hair loss clients and specialty patients including but not limited to burn victims, cancer patients, universal, totalis and areata alopecia patients.
I cannot do everything, but I am well versed in many things. My catalog of experiences ranges from: cuts, colors, up do's, braids, and so much more. My professional expertise includes Weaving, Hair Loss Solutions, and Braiding.  My Work has been featured in the MunaLuchi Bridal Magazine (2015) and Hill City Bride Magazine (2017), Sheeba Magazine (2018 March #38), Farbe Magazine (2018 Winter Issue), on models in many fashion shows, photo shoots and other specialty events.  In 2016, while on stage at the Extensions Expo, I designed the platform style Halo Mohawk Weave. I was selected to be a part of the 2019 Atlanta Super Bowl Fashion Show. I've held educational classes at Paul Mitchell, Hair Strands College of Designs, Bronner Brother Hair Show, Extensions Expo and other individual platforms.  I continue advancing my education by attending and participating in shows, conferences, and classes on a regular basis to make sure I stay updated on the latest information and trends. I am a very dependable hair stylist and always up to learning and reinventing myself. 
I Look Forward to Meeting You!!!!