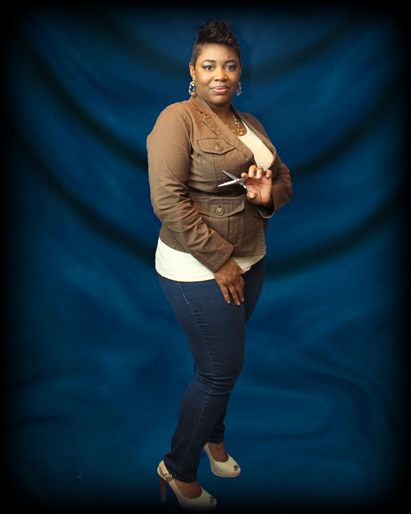 Owner/ Instructor/ Cosmetologist/ Braider/ Weave X-pert/Traveling Stylist
TRINNA (Catrinna Johnson)
I am a native of Lynchburg, VA. I have been in the business of enhancing the natural beauty of clients for well over 20 years. After graduating from E.C. Glass High School in 1995, I furthered my education through the Central VA Community College (CVCC) apprenticeship program for cosmetology.  I became a certified hair stylist in 1997.  In 2014, I received my instructors' certification from Miracle University.  In 2016, I became part of the Weave X-pert International Team (founded by platform artist Tomeka James).  2017 I received my cosmetology license for North Carolina and relocated to Wilmington, NC.
Originally a hair stylist and later becoming the salon manager for Pam's Braidery, I served faithfully for 11 years. In 2007, I branched out; creating Ultra Beauty & Braids. In 2010, I took over the former Pam's Braidery Salon, changing the name to Ultra Beauty and Braids.  I have dedicated my life to helping, not just my clients but others that encounter me to feel beautiful inside and out.
Over the past 22 years I've been caring and styling hair for both men, women, and children. My catalog of experience ranges from: cuts, colors, up do's, braids and so much more. My professional expertise includes Weaving and Braiding.  My Work has been featured in the MunaLuchi Bridal Magazine (2015) and Hill City Bride (2017).  In 2016, on stage performing at the Live Weave Party, held at the Extensions Expo; I designed the platform style Halo Mohawk Weave.  I am experienced in major events, hair shows, photoshoots, weddings, etc. and I am now launching into the field of training, teaching, and educating others of what I have learned over these many years.  Exploring the industry, I understand the business of networking.  My networking includes the fields of styling consultants, photographers, makeup artists, nail techs, physical trainers, music artists, educators, designers, models, and a host of other professionals and entrepreneurs.  Dedicated to growing, I continue advancing my education by attending and participating in shows, conferences, events, and classes on regular basis to make sure I stay updated on the latest information and trends.